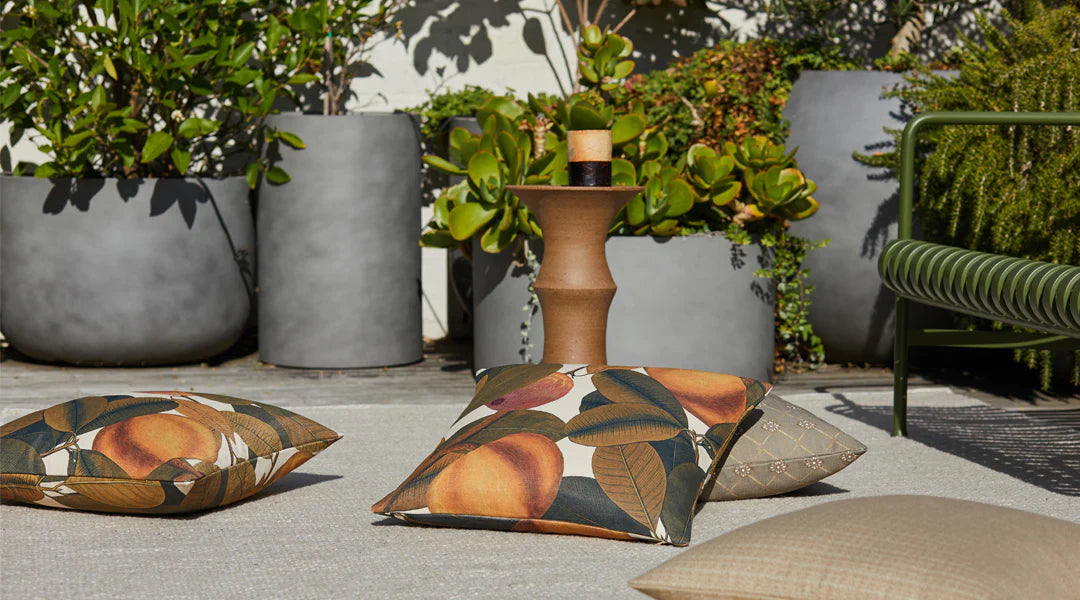 During those warm, beautiful summer days, nothing beats relaxing outdoors in the sun with a book, or simply hanging out with friends and family with a cold, refreshing drink. But what makes these moments more enjoyable is the setting. With our latest Outdoor range, you can now bring the beauty and quality of the indoors outside and create your own tropical oasis!
In this style guide, we will go through some tips on ways you can improve your outdoor area with our products — both new and existing.
something blue; something new
Dip your toes into something pretty and blue with the stunning Ocean and Cobalt colourways from our Soulful Alfresco range. Perfect for the poolside, our Paraiso, Elba, and Cottesloe cushions bring not only beautiful pattern, but durable quality that is UV stabilised and treated with both anti-mould and stain repellents that fight against mould, allowing easy maintenance and peace of mind.  
If blues don't fit your scheme, we also offer Olive and Sand colourways which are ideal for those wanting a more natural, earthy aesthetic. With hints of the Mediterranean, this collection is bound to bring a sense — as well as the beauty — of tropical, coastal holidays to your backyard!
bring luxury comfort outdoors
Whether it's for styling or protecting your flooring and feet from the harsh, hot sun, rugs are a wonderful addition to have in an outdoor area. From patios and alfrescos, to indoor spaces, our Andorra rug is super thick, soft, and durable that features a hand-woven, bold geometric design with a beautiful, textured finish.
UV stabilised and made from 100% recycled polyester, Andorra is perfect for adding texture and visual interest, as well as providing warmth and comfort — especially during those cooler nights.
In two timeless, neutral colourways, this rug is a must-have for those looking to add extra dimension to your outdoor seating area with beneficial properties and luxury quality.
style with classics
Although they're not specially designed for outdoor use, you can still style versatile classics such as our Como and Vito cushions, as well as our Solano throws to add a more relaxed feel to your space.
Made from premium European linen, Como and Vito can be paired back with our Soulful Alfresco cushions, creating the ultimate summer escape. Durable and washable, these ranges offer soft texture, colour, and with Vito, a playful stripe that truly captures the fun and essence of summertime.
Throws for all spaces
When the sun sets, some nights can become cool and a little breezy. Made from cotton, but light and soft, our Solano and Sonoma throws are perfect for placing over your lap or wrapping yourself up during those times when you're needing extra warmth. They are also great way to bring pattern, style, and added comfort to your outdoor living space.
---