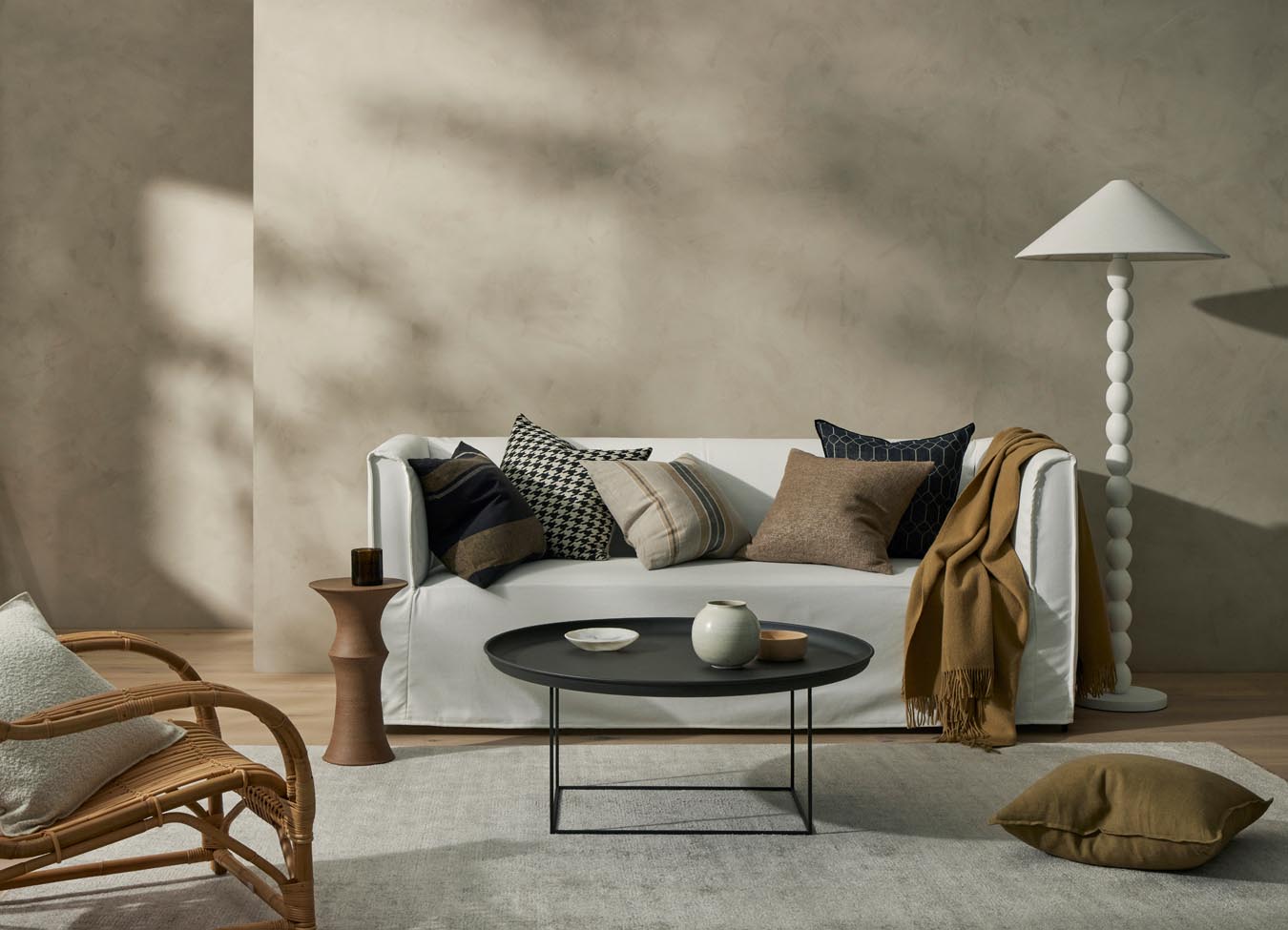 Subtle in its grace, and grounding in the tonal earthy hues, Qualia creates a sophisticated modern twist on timeless neutrals. The rich hues of coal and clay evoke an urban haven that is centering yet transcendent in its simplicity.
The natural materials and raw, handwoven, textual elements of Qualia, create a clean structured, trend focused aesthetic, with a space to release overthinking and move forward with purpose. Bouclé accents create a strong statement, while lineal features and block colour create a moody yet soothing dependability.
Aero finished for a soft and luxurious finish, Vaucluse brings a subtle geometric pattern and colour inverted reverse for creating different looks.
In the shade Midnight, Vaucluse offers a unique two-way option where it can be onyx with ivory detailing, or ivory with onyx detailing, making this cushion perfect for any setting and theme.
Aero finished and made from luxurious European linen, Dante in Midnight is a warm toned onyx, trans-seasonal placement check with natural palette that creates a relaxed yet inviting style.
Perfect for creating a sensory experience, Giovanni's houndstooth design and beautifully soft bouclé texture pushes the cushion into a luxurious aesthetic, lifting any décor to a new dimension.
The Midnight colourway is a classic black and white option that allows the design to truly pop, providing dimension, as well as a striking finish.
Aero finished with a luxurious, soft, vintage feel, our core placement stripe Franco in the new shade Clay brings a warm neutral option that is perfect for adding warmth to any space.
With a woven raw-look yarn, Domenica is a refined plain that will pair back effortlessly with its complementing patterns and designs from each collection, bringing an organic, natural feel.
In three on-trend colours, the shade Clay is an earthy brown that is ideal for a rich, nature-inspired aesthetic.
Aero finished and featuring a gorgeous, on-trend placement stripe that is perfect for bringing dimension, warmth, and a fresh aesthetic, our Franco throw in Clay will add warmth and sophisticated contrast into any room.
Gippsland is a classic hand-woven, wool blend rug that features subtle stripe detailing for added dimension.
Ivory with soft brown stripes, Gippsland in Stone (pictured) brings a soft, cosy style — perfect for creating warm and inviting environments.
---