Explore The Rocky Shores With Campania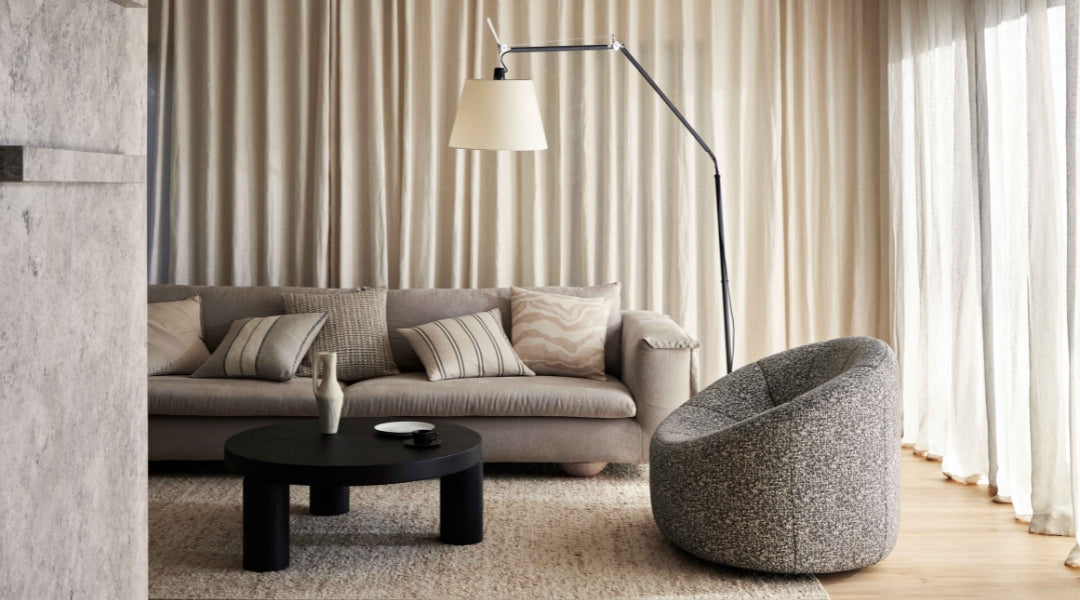 Explore the natural forms and textures of Campania, inspired by the Pertosa Caves. Lineal structures and clay toned rock formations are emulated through the tactility and pattern in the weave structures.
The Tirreno arm of the Mediterranean seas is the backdrop to the beige and earthly hues, which sets the foundation of this classic palette. Undyed yarns are representative of the natural earth through the collection heroes eco-conscious design sensibilities.
The pops of crisp black colour accents elevate this traditionally minimalist, but contemporary aesthetic.
Embodying the beauty of a sand dune, Clunes features a beautiful wave-like surface embellishment that brings a sense of relaxation and wonder with its calming pattern. In two coastal hues, the Linen colourway brings a combination of light and dark beige, reminiscent of rich sands on the shore.
Chunky in texture, Terrigal is a contemporary and gorgeously soft woven, small-scale check that will add subtle complexity wherever it is featured. In the shade Natural, it features a mixture of white, beige and brown yarns that give added dimension — similar to the natural elements of a rock.
Made from luxurious European linen, Vinnie is a classic woven stripe with a soft, vintage feel that will sit wonderfully in coastal and relaxed environments. Perfect for our Campania collection, Natural is a light beige with striking black stripes that will sit beautifully in any scheme. 
With a complementary linen micro-flange for added sophistication, Francesca's velvet texture and neutral colourways make this cushion a lovely, versatile addition to any collection. The shade Salt is a light beige that exudes elegance.
Timeless yet casual, Ottavio is a chunky, textured stripe that is perfect for a relaxed look and will sit effortlessly in any neutral environment. The shade Natural combines light and warm beige hues with white and onyx checkered board stripes for complexity and surface appeal.
Luxuriously soft underfoot and loom knotted with a bound edge, Henley is a stunning, chunky weave rug that is a must-have for textural appeal — particularly a bouclé look. In three colourways, Ivory is a sandy beige that will add warmth to any setting.
---