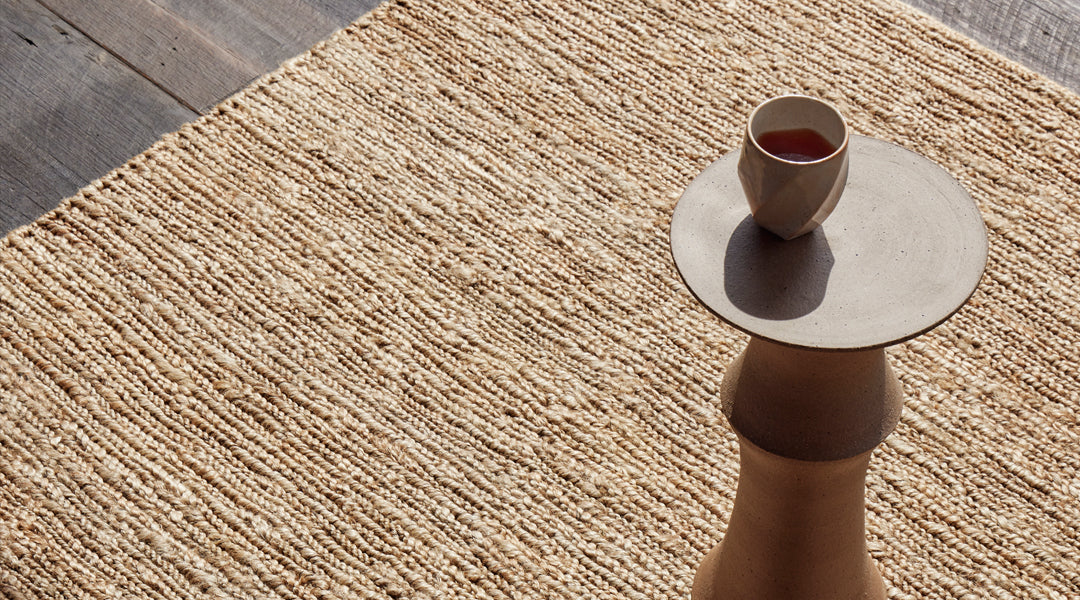 How to clean your Weave floor rug
We want every Weave rug to last for many years looking as good as when you first bought it. This is why every one of our rugs has a cotton backing and braided edge on the underside to provide strength and stability and keep the rug square.

Image: Suffolk Rug in Mineral from our Indra Collection
All our rugs are hand woven on looms in northern India. Weave rugs have been created for generations using skills handed down through artisan families. Handwoven Weave rugs are beautiful in their individuality and longevity. Weave rugs are not machine-made.
Image: Glebe Rug in Oat
Viscose rugs and Bamboo Silk
If your rug contains any viscose or bamboo silk, follow this care instruction.
Do not spot clean or use liquid cleaners (including water) on viscose rugs. Viscose rugs needs to be dry cleaned using a professional rug cleaner. Initial spills should be blotted (be sure not to scrub, as this will damage the pile) immediately with a paper towel or colourless cloth. Then arrange a professional rug cleaner for a dry cleaning service as soon as possible.  
Image: Suffolk in Natural
Wool, Cotton and Jute Rugs
We recommend treating spots and spills immediately with warm water and paper towel. If the stain persists, contact a professional rug cleaner as soon as possible. Do not scrub rugs as it may cause permanent pile damage.
Image: Gippsland in Stone
All our products are designed in our studios in Melbourne and Auckland and are crafted with quality at their heart. We work with artisans and designers to create unique collections, with contemporary living in mind.
We are also proud members of Care & Fair, and when you purchase a Weave rug, you are supporting the artisans and communities where the rugs are hand-woven.
For more information on Weave rug care, click here.
---