Soak In The Sun With Villa Umbra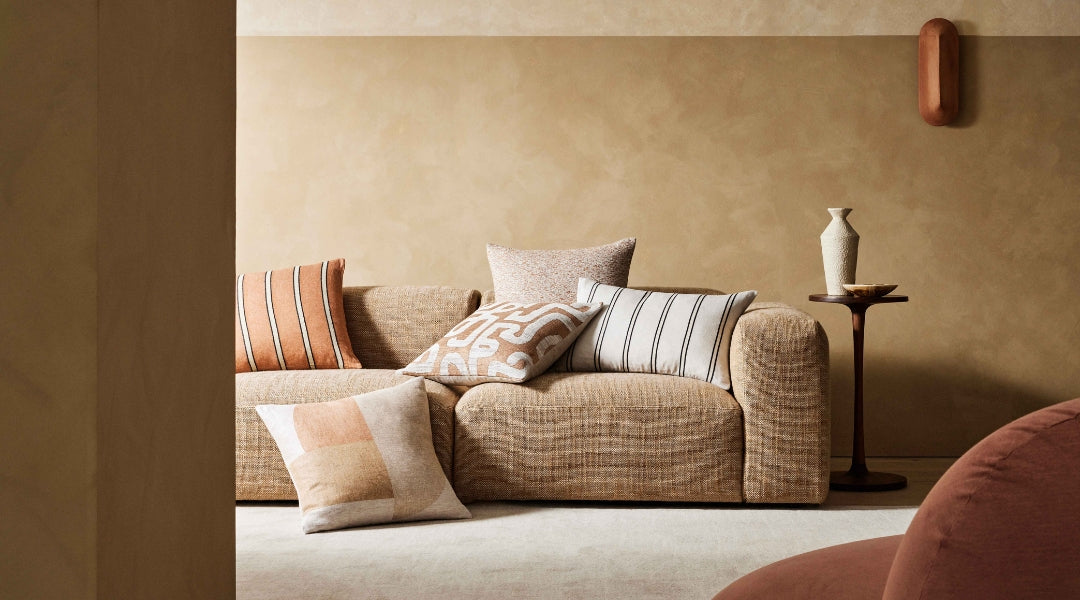 Be transported to the coastal villages of the Cinque Terre, where pops of colour scatter the cliffs of charming villages.
The tones featured in Villa Umbra emulate the rich earth of coastal bays and traditional terracotta tiling, while warm golden sands are the canvas to the bronzed, sun-kissed, holiday makers and locals alike.
Earthenware defines the textural elements that can be seen within this collection, while softer lines emulate the ripples left in the sand from lapping waves on the shore. Villa Umbra is the embodiment of the casual yet decadent European summer lifestyle with a rustic charm that creates bespoke and unique pieces.
Contemporary and woven with a vintage linen feel, Erina is a soft take on geometric design that will provide a subdued elegance to a space. Its Earth colourway brings beautiful pops of pastel coral and beige for a summery aesthetic. 
Indulge in soft, luxurious velvet with Francesca. Plush with a cosy feel, Francesca is bound to bring rich texture and sophisticated opulence wherever it is featured. In four soft, core neutrals, Copper is a muted, toasty brown that is perfect for adding a subtle touch of warmth.
Evoking a sense of warmth and serenity, Serene is a modern yet unique statement cushion with a jacquard woven design that is tactile and playful on the eye. Offering a soft pop of coral, its Earth colourway will sit beautifully in neutral settings and capture attention wherever it sits.
Sophisticated and unique in its simple elegance, Donnatella features a woven medley of multi-coloured yarns for an extra dimensional finish. In two summery colourways, Coral brings a combination of sand, pink and natural linen yarns — all beautifully elevated within its woven structure.
Bringing a modern take on the playful cabana stripe, Vinnie is simple, timeless, elegant yet fun — the perfect cushion for relaxation. In four refreshing shades, Terracotta is a warm, earthy clay that adds sophistication and lovely pop of colour to any room.
With a soft, vintage feel, Domenica is a plain linen blend cushion with a chunky texture featured on one side. In seven on-trend colours, the shade Cinnamon brings a lovely earthy, clay tone to the collection.
Bound to elevate any space, Silvio is a plain, contemporary rug that is rich in texture and finished with a sophisticated micro fringe and border detail for a taste of nostalgia.
Offering eight on-trend and classic colourways that are inspired by nature and European trends, Ecru is a lovely cool-toned ivory that will bring elegance to any interior.
---