Tips for Buying Rugs Online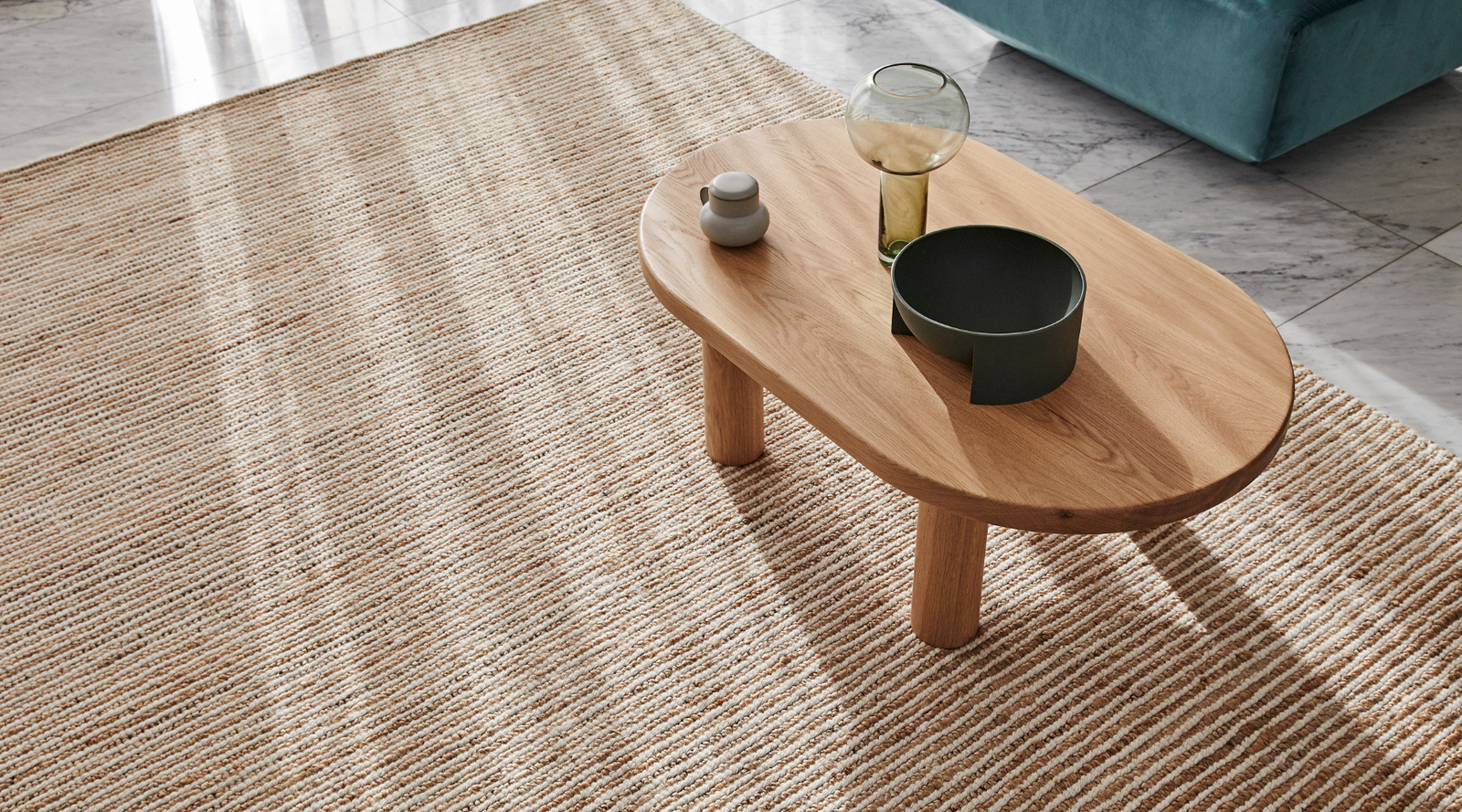 Rugs are an easy and instant way to add warmth to your home. With the wide variety of rugs available to shop online, it is more convenient than ever to find the perfect rug that suits your personal taste and practical needs.
Measure out the rug size
When browsing for rugs online, you are going to discover a wide variety of shapes and sizes. Measuring your room before purchasing a rug online may seem like an obvious step, but it is essential to take the time to measure your space properly to avoid getting the wrong size.

Your rug size is determined by the room's shape as well as furniture placement. An easy way to visualise what rug size you need is to lay out a sheet, newspapers or blanket — once you've found the perfect fit, you can take your measurements and shop with confidence.

If you are unsure about how to position a rug with your furniture, we've put together a handy guide which includes diagrams and in the most popular areas in the home — the lounge, dining and bedroom.


In general, the easiest format to work with is a rectangular shape because it helps define an area that furniture can be styled around. It is also best to opt for a larger sized rug that can easily accommodate and anchor big items of furniture such as a sofa or bed. For large spaces, you can also consider layering two rugs — a style that works well is having the top layer rug placed on an angle.

When browsing, keep in mind that lifestyle imagery of rugs online are likely to be styled with furniture sizes different to your own — so be careful of impulse buys, even if that gorgeous dining table looks identical to yours.
Image: Tivoli Rug in Ivory
Patterned Rugs
Be sure to check the rug photos for pattern size and repeat. Rugs have a great visual impact and their pattern has a big role to play in pulling your styling together as well as the longevity of your rug. When browsing, look for the colours used as well as the weave pattern (especially in natural fibre rugs)

Here are three little practical tips you might like to consider when you are choosing:
Light toned or solid rugs are suitable for low-traffic areas, such as the bedroom.
Two-toned or patterned rugs are great for high-traffic areas, such as the living or dining areas 

—

these will camouflage spills and dirt.
If your space is quite minimalist, seek a piled rug which will add visual interest and hide dirt at the base of the fibres 

—

making it look cleaner for longer.
If you are layering textured rugs, be mindful that the patterns are not too intense. The contrast in texture creates such a lovely focal point as it is.
Image: Matisse in Shale
Check the rug weight
If you are wanting to buy a rug that you will love for years, it is worthwhile investing in one with a high weight count. The heavier the rug is, the more material and thickness it has. A rug that hasn't compromised on its high-quality material count:
Sits better on the floor: it is less likely to slip on timber or tiled floors, unlike smaller rugs.
Lasts longer: a thicker rug will withstand traffic better than thinner rugs which are likely to wear more quickly or flatten easier over time.
Plusher underfoot: if you are after a cosy rug, you want one with more pile!
Better insulation: this will keep the warmth in during the cooler months cold climates months.
Adds visual interest: heavier rugs look more luxurious and add more depth to the space, lifting the room's atmosphere.
As a guide, we would recommend around 20kg for a high-quality rug. Something to be mindful of when shopping online is that you will likely be charged a higher shipping fee for a heavier rug. At Weave Home, we offer free shipping for all online orders over $100.
Check what the rug is made of
One of the most important things you want to look out for when shopping online is the material that the rug is made of. To choose the right material, you will need to consider how much traffic your rug will receive, what type of texture you want and what your budget is.
You will find that most rugs use a combination of materials, such as those found in the Weave Home range. We have put together an in-depth guide to the three most commonly used materials so that you can shop with confidence.
Image: Suffolk Rug in Pearl
Jute Rug
Jute is a natural fibre made from a plant native to India. The long, soft and shiny fibres — found at the central parts of the stalk — are spun into strong threads. The most common type of jute produced today is brown jute which is golden in colour – it is stronger, softer and silkier than its counterpart white jute. Being a natural material, it can add a coastal or earthy vibe to any space.

Why we love it:
Creates tough and durable rugs
Has the ability to create unique weaves and textures that other types of fibre normally cannot achieve
Eco-friendly and renewable 

—

typically free from chemical processing
Great for adding visual interest anywhere in your home.
Considerations:
More coarse, rough on your feet compared to other natural fibre rugs
Absorbs water easily 

—

making it difficult to clean and can show watermarks overtime
Best for: high-traffic and sunny areas such as your living room.
Image: Makalu Rug in Basalt
Woollen Rug
Wool is a natural fibre that has been used to produce excellence quality rugs for centuries. There is a wide range of different wool types used in the rug weaving industry. When shopping online, be mindful that synthetic wool does not have the same properties as true wool.
Why we love it:
Beautifully soft resilient fibre that is easy to clean 

—

good stain and water repellent properties.
Wool is naturally anti-static, repelling lint, dirt, and dust from its surface, keeping it much cleaner for longer.
When it does need cleaning, wool rugs are easier to maintain because the outside surface of the wool fibre consists of a series of overlapping scales (similar to the feathers on a bird), which means that dirt sits on the surface of the fibre, making it easy to remove with a simple vacuuming.
Dyes easily and holds its appearance for a long time.
Longer lifespan than other fibres.
No smell.
Considerations:
It is usually more expensive than other fibres, but it is worth it for its high quality.
Absorbs humidity

— 

not good for damp places.
It will shed for a little while when new so it will require regular vacuuming.
Best for high-traffic spaces that may expect a spill, such as the living room and dining room.
Image: Andes Rug in Sandstorm
Cotton Area Rug
Cotton, like wool, has been used for centuries. The humble plant is very popular all around the world and has a wide range of uses including clothing, bedding, cushions and rugs!

Why we love it:
It's affordable.
It is really easy to clean.
Good insulation.
Considerations:
Not as durable as wool or jute.
Doesn't repel stains.
Tends to fade quickly.
Best for: casual spaces, such as kids' bedrooms.
Image: Almonte Rug in Honeycomb
Viscose and Bamboo Silk Rugs
Bamboo silk and viscose are both cellulosic fibres made from wood pulp. The difference is that bamboo silk fibres are made specifically from bamboo. Both fibres have a lustrous, silk-like look and a soft touch.
Why we love it:
Provides a soft, silk-like look at an affordable price.
Absorbs dye well, resulting in both vibrant and subtle colours.
Very soft and comfortable underfoot.
Considerations:
More shedding does occur in viscose and bamboo silk rugs than other fibres, but this does settle down after time.
Not suitable for high-traffic areas.
We recommend that all viscose or bamboo silk rugs are treated by Rug Protection Systems before use.
Professional cleaning is recommended.
Staining will occur if rug is not stain treated and a liquid spill takes place.
Image: Andorra Rug in Dove
Outdoor Rugs
Bring the beauty of the indoors outdoor with our latest indoor and outdoor range! UV stabilised, our outdoor rugs are perfect for adding texture and interest, as well as providing warmth and comfort.
Tactile, durable and kid-friendly, this range is perfectly suitable for variety of areas, including: general living, patio, alfresco, dining rooms, bedrooms, and entry/hallways.
Looking for a rug that will last?
Most natural fibre rugs will hold up well for a long time, but there is one feature you should keep an eye out for to extend their lifespan: check if the rug has a backing.

Most rugs do not wear out from the top, but from the bottom, which is why all Weave Home rugs have a full cotton backing and edging to protect the weave. Not only does having a backing on your rug improve its longevity and wear, but it also keeps the rug straight and flat, making it less of a trip hazard.

Another buzz word to look out for is pile — this is how deep the fibres of the rug are.
A low pile rug is less plush but typically easier to keep clean.
A deep pile rug is more plush but may require more vacuuming due to possible fuzzing or pilling.
A flat pile rug is less of a tripping hazard, and due to no raised fibres, won't wear down easily in high-traffic areas.
A raised pile rug has more texture and visual interest but is better suited to low-traffic areas.
The key to increasing the lifespan of your rug is maintenance. We recommend rotating your rug or moving furniture on your rug on a monthly basis to avoid damaging the pile. Treat spots immediately, following the instructions on your care label. If a stain persists or the fibres are delicate such as Bamboo Viscose, contact a professional rug cleaner.
---